Hanku
Jul 20, 2007 8:11:54 GMT -5
Post by Red400 on Jul 20, 2007 8:11:54 GMT -5
PLAYER INFORMATION
-
Player Screen name:
red400
Player Age:
15
Player Notes[You can add anything extra here]:Player Current Characters
Hanku, Hao, Mattew
-
THE BASICS
-
Character Name:
Hanku
Character Birth date:
September 28, 1991
Character Age:
16
Character Race[Must be a human/humanoid]:
Human
Character Position[Hero(Good)/Neutral/Villain(Evil):Character Gender:
Male
Character Personality[5 sentences of description required]:
Hanku is very quiet. He rarely speaks to anyone. It's not that he is shy; he just doesn't talk a lot. He usually mumbles to himself. When he does talk, he pauses at the end of sentences. Hanku doesn't show off any emotion. He just has a blank look on his face for the most part.
Despite having a 'cold' personality, Hanku has a strong sense of loyalty. If a person manages to earn Hanku's trust, he helps them with any sort of problem, big or small. He also has a dislike of darkness, even though he acts like he is a part of it.
Character Appearance[5 sentences of description required]:
• Height - He stands about 5'6''
• Haircolor - Blue
• Eyecolor - Blue
• Build - He sort of has a slim body, but it's slightly built.
• Clothing -
He wears a black sweater and has a white polo shirt. He wears black pants and has a black, solid color shoe. He also wears a cape that is similiar to a coat that is also black.
Picture: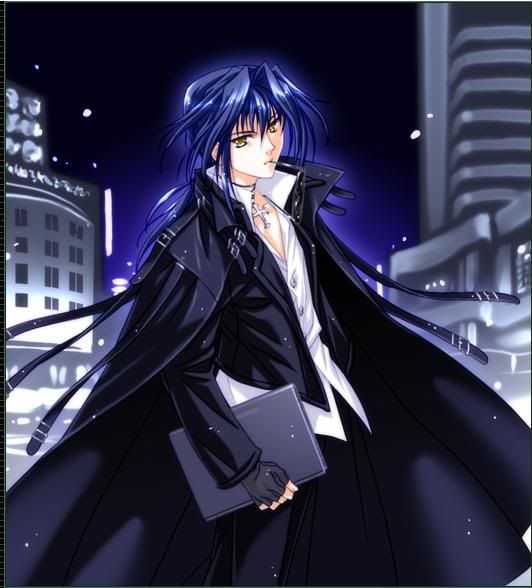 -
POWER
-
Character Abilities [maximum of 10 - you must provided the name of your abilities and descriptions]:
Water Teleport: He drops a sphere down to the ground, which dissloves into a puddle of water. Hanku steps onto it and his body morphs into liquid form, making him sink into the puddle. After he has sunk in, the water disappears and reappears anywhere of his choosing. He usually does this when he is traveling in other worlds.
Ice Block: Hanku throws a sphere at a target, which explodes on contact. If it makes contact, it will trap the target inside a block of ice for a small while; It's used to prevent enemies from making a fast move.
Water Form: Hanku can touch a solid object and morph it into water, although he rarely uses it.
Iceicle: If there is a body of water, Hanku can manuaplite and morph it into sharp iceicles. It's distance depends on the matter of the water.
Ice Dagger: Hanku uses a body of water and morph it into tiny, sharp crystals. From there, Hanku can point it at any target and fire them.
Ice Sheild: Hanku steps on water, almost like his water teleport. However, he spreads the water away from him about a couple of feet, and morphs it into an ice wall to sheild off an attack. But he can only block from one side.
Character Weapons [maximum of 3 - A character cannot wield a key blade until it has reached the rank of key blade wielder]:
His is a weapon small, blue sphere that he carries in a pouch inside his pocket. It has a mix of solid and liquid substance to it, giving Hanku to morph it into a weapon of choosing. He usually prefers the sword over anything.
He carries about 10 of these blue spheres, but he only uses one for a primary weapon and the others are for his abilities.
Attack Power [Choose from the provided scale]:
Weakest
- 1 2 3 4 5 6
7
8 9 10 -
Strongest
Drive Power [optional/choose from the provided scale | Optional]:
Weakest
- 1 2 3 4 5 -
Strongest
Summons [optional/maximum of 2]:
None
-
STORY
-
Character History [Must be a minimum of 10 sentences | Use proper grammar]:
Hanku was born in a very techniogical world. Yet, it heavily relied on the basic elements of Fire, Water, Earth, and Ice. The water and ice group were in one group, as were the Fire and Earth. All four elements lived in peace together, although it was forbidden to learn any powers outside of your trait.
Hanku had a peaceful life in his world; His father taught him ice techniques, while his mother taught him water techniques. His parents were usually strict on him when it came to his training, but other than that, they were loving parents.
Even though it was forbidden to learn any other techniques, besides your own elements, a book was created. Inside, it had all the abilities of all four elements, in a very orgainized manner. Each group of elements had one copy of it, in case something ever happened to them. Hanku's parents were actually an owner of one of the books, although they would never show it to Hanku; not until at later age anyway.
Hanku's comprehension was more advanced than most people. He learned techniques that people trained for years to master, in a matter of months. When he was 9, his parents decided to let him learn a very special power; Water Teleport. If it was mastered, A person could travel to where ever he or she wanted, seconds; even to different worlds. However, very few people learned this power, because it took so long to fully control it. The average person, in Hanku's world, took almost 10 years to get HALF of the technique right. However, Hanku's parents, and even Hanku himself, felt like he was ready for it.
Because it took so longed to learn the technique, Hanku was sent to a different, remote place, where he wouldn't be disturbed. Of course, being at a young age, he was very hesitant to leave his parents and be on his own for who knows how long, but his parents were able to persaude him. They gave him some charms and mementos, so he wouldn't forget about them. Hanku would train alone, without any contact from the outside world, for almost 4 years, before the 'incident' would happen.
One day, as Hanku was training, the sky began to darken by black clouds. Hanku shrugged it off as a Thunderstorm, so he decided to continue his training until he saw lightening. However, nothing happened. A couple of days past, and the clouds were still there. By now, Hanku was curious about what was happening, so he decided to leave the training ground and go back to his home.
Hanku was about the leave the area, until his two figures were coming from a distance. One of them appeared to carry something. As they got closer, Hanku spotted some other figure appearing, but it was far from a human figure; Hanku later figured out that they were called heartless, and they were invading his world. The two figures were getting closer and closer, and Hanku realized it was his parents. Hanku rushed towards them, forgetting about the heartless behind them.
Hanku was about to say something to them, but his parents were already giving him orders. They gave him the book, and they told Hanku that he needed to find a safe area, before the black creatures came here. Hanku didn't want to leave his parents, so he wanted to fight the heartless. However, his parents said it was use-less, as the heartless were rapidly appearing everywhere. Hanku saw his first of look of Shadow, the basic type of heartless. They were the most abundant of the heartless, although many more of different types were beginning to appear.
If his parents said it was use-less, then the least Hanku would of done was bring his parents to safety. However, that option soon closed on him, as the heartless struck his parents right in front of him. Hanku would of fought the heartless until he died, but he still he still remembered what his parents said to him. Respecting their final orders, Hanku retreated back into the cave where he trained.
Hanku spent his time in cave for a little while, before he felt an earthquake. He tried to escape, but the force of the earthquake was too much that he collasped. Hanku then felt a sudden rush in his body, like the floor was sling-shot from the ground. The force of this eventually made Hanku pass out, but he still kept his grip on the book.
When Hanku woke up, he found himself in some libary. It was the Hollow Bastion castle's libary. It was dark when he first came in there. Hanku decided to look around the place, to see if anything look fimiliar to him. His hopes were shattered when he realized he wasn't in his world anymore. It was a completely different world.
Hanku would continue his training with the Water Teleport, until he finally mastered it inside the libary. Hanku spent his time reading the books inside the libary. He was able to piece-up what happened his world with the books he read. Hanku also looked inside the castle area, and he soon found a place where he could rest, beside the libary; The Great Crest area. He put all his stuff in this room, except the book. Hanku had left it inside the libary, trying to protect it.
Time passed by quickly after he mastered how to teleport with water; he found himself reading the book that his parents gave him, before they died. It was written in a special language, designed for only him to understand. He also kept a charm with him, just to remember his parents.
Hanku began to explore outside of the castle, after spending about two years in it. His communcation skills were lacking, considering he spent half of his life away from other from people. He questioned people's loyalty, asking them if they were his allies or enemies. Because of this, he rarely spoke with a person, much less make them his friends. However, he was able to make a couple of friends. A certain one, named Colleen, earned both his trust and respect after an adventure they went on together.
Hanku wasn't involved with her problems at first, but he soon wounded up being with her. He saw some person about to attack Colleen, and he interfered at the last minute in Hollow Bastion. The person that was about to attack Colleen was actually her friend, Red. Red quickly left the area shortly after Hanku's arrival.
Hanku didn't really know what the situtation was, but he was willing to help out Colleen. Hanku was able to get a slight info of what was happening, although it wasn't much. Hanku took Colleen to the libary to find a cure for Red. The two soon met up with Red, and his brother Ren, who was actually controlling Red. The two groups fought for a while, but Hanku caught Red in a trap.
Red had turned back into his normal state of mind, but he was quickly taken back by his brother, Ren. Meanwhile, Ren was showing off a memory of what Red's and Ren's life was in their old world. Like Red and Ren, Hanku had lost his world to the heartless. However, he didn't submit to it, like Ren did. When the memory was finally over, Colleen and Hanku found themselves in the Great Crest area. Red was under Ren's control again, and forced him to fight Colleen and Hanku.
After a long, drawn-out battle, Hanku and Colleen were able to beat Ren. However, with his death, Red was also dying. Hanku let Colleen and Red have their moment together, not wanting to see another death happening in front of him again. He was all bruised up and tired, so he had to think of an area where he can rest. The first thing that came to mind with Traverse Town. Hanku thought that he would be done with Colleen, but they ended up seeing each other again soon.
Hanku was resting in Traverse Town, under the generoisty of the locals. They had given him new clothes as well. After taking a short break, Hanku respectly left them. He decided to take a look around the city for a bit, since he never really explored this place before. As he was walking, he had met up with Colleen again, with another person. His name was Helms, who was helping with Colleen trying to find him. Hanku was hoping that he would get away from Colleen's problem for a little while, but he would of felt guilty if he did leave her. So, Hanku followed Colleen again, trying to find someway to bring Red back. They went over to Merlin's place, where they figured out about Red's nobody, Rey. Colleen and Hanku decided to check Twilight Town to find the new nobody.
When they arrived in Twilight Town, Hanku and Colleen split up to find Red's nobody. Hanku was at the train station when he met with the nobodies, which was a first for him. He was caught off guard by the sudden appearance, that he ran to the sand lot. There, he met up with Colleen. She had found Rey's nobody there as well. The three fought with the nobodies for a bit before heading towards the mansion. Rey wanted to show them something that might of helped them to get Red back, inside the mansion.
Once they arrived in the mansion, the three of them splited up again for a short while, exploring the mansion. Hanku stumbled upon a stair case that lead below the mansion. Hanku showed them, but Rey already knew what it was. Rey lead them down the stairs and into a room. Soon, they found a portal. After they stepped into it, they found themselves in another world.
Colleen, Hanku, and Rey walked together in the new world. They soon saw a castle that had the same symbol Rey had on his necklace. All of them went inside the castle, and they soon met up with Ren's nobody Ray. Ray said he knew a way to bring back Red, but he didn't let it out until they beaten them.
Before Ray admit defeat, he did something to Hanku that made him lose strenght every moment. When Ray finally disappeared, Hanku collasped from exhuastion. He soon woke up, still feeling like spagettei legs. Hanku heard what they needed to do; They had to find some sort of orb that had the heartless symbol on it, and they had to bring Rey to Hollow Bastion.
After a long journey, the three of them were in the Great Crest area, where Red and Ren had died, with the heartless sphere. They had to sacifice Rey if they wanted to get Red back, which Rey hesitantly accepted. However, they had one more trail to go through before bringing Red back; Ray was waiting for them, hiding in the shadows. Apparently, they also needed a piece of Ray as well, before bringing Red back, and Ray wasn't going to give it that easily.
At the final moments of the fight, Colleen stabbed Ray right in the torso. She now had a piece of Ray's blood on her sword, which was enough. Ray disappeared as he teleported somewhere else. Hanku, already tired from the fight, decided to let him go. He could get his revenge on him later on. Hanku waited for Rey to jump into a hole that Colleen and himself dug, for the...tribute. Before Rey jumped in, Colleen gave Rey a hug as a good luck.
When Rey jumped in, a white flash suddenly blinded the room. It was shortly followed by dense smoke. Hanku had his weapon ready, just in case something bad happened. As the smoke cleared, a figure was replaced for the hole. He had red hair and red eyes. It was Red, although he look different from his last appearance. Still, he was a completely different person than the last time Hanku saw him.
Red and Colleen had their moment together, and soon Red properly intoduced himself to Hanku. Shortly after, Colleen gave him a hug. It was a long journey for both Colleen and Hanku, and Hanku was feeling too tired to even care about anything right now. Hanku shurgged off the little reunion as he said he was tired. He soon walked out on Colleen and Red, who soon disappeared. Hanku just sat down, next to the charms and mementos he had of his old world, drifting to sleep.
Now, Hanku is just an explorer. He still doesn't talk to people much, although he is on his way to better communcation skills. He comes back to Hollow Bastion's castle every now and then, still protecting the book and his old world stuff. He reads more about the book that his parents gave him as well, trying to learn the techniques he was never allowed to learn in his old world.
EXTRA
Sample Post [Please provide us with a sample of your roleplaying skills. We would like to see how you currently roleplay | Use proper grammar | Minimum of 5 sentences required]:
Hanku walked about inside the libary of Hollow Bastion's castle, trying to look for a book to read. He already read most of them now, but he still wanted to search for a book that he over-looked. It seemed like he couldn't find nothing that was new, nor interesting to him. He sighed under his breath, disappointed. Hanku looked over to the shelf on the left corner of the entrance. That was where he placed his book at; it sort of stood out from the others, considering it was still in perfect condition. It hasn't lost it colors yet and the text were clear. However, it was written in a way Hanku could only understand, which was good for Hanku.
Hanku reached out for the book. He shooked off the little specks of dust it collected and opened it. There, it had little signs and letters that were jumbled up together. Each page were mark by a certain color, showing what element it was made of. Hanku was reading under the water section of it, which brought back memories of his world. He felt sadden by it, but his blank face didn't show it. Instead, he let out a very small, quiet sigh under his breath. He placed the book back, now trying to find something else to make him forget about his old memories.
Please answer the following questions [You must use the answers provided. Apply each answer to the character that you are creating]:
Which form will you choose? [pick an answer that follows that best suits your character]
3. The power of the mystic.
"What's most important to you?" [pick an answer that follows that best suits your character]
3. My prize possessions
"What do you want out of life?" [pick an answer that follows that best suits your character]
2. To broaden my horizons.
"What are you afraid of?" [pick an answer that follows that best suits your character]
3. Being indecisive.