Post by Lady Thomas on Apr 11, 2011 17:41:02 GMT -5
Member Information
Player Username:Thomas(the cuteness)
Random Character Notes (Add anything extra here):He kind of started off as a more detailed Thomas drawing, but as i looked at it i saw it didn't fit Thomas' cute and playful personality, so i figured that he would make a great new character.
Character Basics
Character Name:Alexander Ishuzi
Character Age:14
Character Race:Shape shifter (though has only one form)
Character Gender:Male
About the Character
Character Personality : Alexander is a quiet boy who often likes to be mischievous.He trys to act kind to people he has just met.when he isn't his older self he is kind of selfish and likes to play pranks on people around the worlds.When he is in his older form he likes to be calm and stay out of peoples way.when he is lonely he often ends up becoming a shy and nervous person.
Character Appearance :

Alexander has sky blue eyes, tan skin and dark brown hair that looks black from far away. His body type is regular,not too muscular weighs about 124lbs and is 5'4".He has also two scars,one under each eye. As for clothes he wears he usually has a long sleeved Grey shirt that's sleeves have a white trim to them and are longer then his arms if he doesn't have it adjusted enough to his shoulders.He wears either shorts or jeans for pants depending on the weather of the world.he always wears his home worlds necklace to remind him of his home.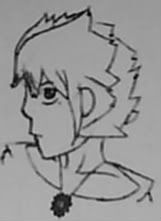 When Alexander is in his older form he is 5"9,weighs 140lbs and he is more on the muscular side.The older him has the same outfit but the sleeves fit him much better.He looks about 17 when he looks older
Character Hobbies/Activities (Optional Field): Playing pranks on others, reading books, working
Battle Statistics
Character Position: Neutral, though he tends to lean closer towards villain at times.
Character Abilities (Maximum of 15 abilities allowed - please write your abilities in list form, starting with name & then description): Shape shift: He can limit himself to half an hour as an older form of him
Silence- disables an enemy of there magic for two post, this can be avoided if the person attacks him before he has time to use it . used up to twice per thread.cooldown three posts
Curled Vine- Vines wrap around a enemies legs and keep them from getting away, though it can easily become avioded if the person jumps out of the path.this works for two posts. Cooldown five posts
Powered petals- allows alexander to become invisible for a short period of time while the petals fall.Works for two posts. cooldown three posts
thorned knuckle- allows alexander to punch at a person with thorns. Backfires if he punches too hard. he is able use it for four posts
Plush Dummy- Creates a dummy in place of him during a fight, saving him from a attack he may not find easy to get out of. only works two times a thread.
Character Weapons (Maximum of 5 weapons allowed – members must have 200 posts before their characters may wield a keyblade):Bow and arrow, basic magic
Character Accessories (Maximum of 5 accessories – optional field): Hatsagami necklace
Mode of Transportation (Optional Field):Gummi Ship
Character Strength's (1 required):He can run fast, he is clever,
Character Weaknesses (1 required):Rain, the short amount of time he can change his appearance to look older.
Character Summons (Optional field – no canon summons allowed – maximum of 2 allowed):
Lusiano- a thorned flower monster representing the souls of Hatsagami in each petal and thorn. He can use most of his abilities when it is in play and can also charge at an opponent. Avalible for three posts.
i37.photobucket.com/albums/e95/sara_belly/Anima__ThornLion_by_Wen_M.jpg
Character Story
Character Home World (Optional Field):Hatsagami
Character Relationships (Optional Field – Describe any relationships that your character may have regarding family, friends, etc.):None
Character History (Minimum of 10 sentences required – proper grammar & punctuation required):Alexander was an only child of a small family in the world of Hatsagami. In the world of hatsagami they all had a special ability to shape shift themselves to look younger or older when they learned it at age four. He chose to make himself look older, unaware of what he would use it for.Hatsagami was attacked by heartless six years later.within that he got into danger, causing two scars under his eyes from the chaos. Alexander was saved by a shadowed older figure that helped him escape by showing him the way to the only spot of safety.He never actually got to thanking the older figure for saving him because the figure disappeared once he got out of the safety of the pod he was in.when he had gotten out of the pod he then noticed that the place he had now been taken to was much different from his hometown. The planet was called twilight town. Since he was young and he thought his family was gone, he searched for a family that could take care of him.it is then when he went to a hotel for the first night that he noticed something different, he could shape shift into an older version of him. With that he decided to use his shape shifting to get a job and some money. He bought a gummi ship when he became twelve and has been waiting for the right moment to explore the worlds.
Writing Portion
Sample Post (Required for first time character creators only - provide us with a fresh sample of your roleplay skills; we prefer new works written by yourself especially for this purpose – proper grammar & punctuation is required - a minimum of 10 sentences is required):
Kingdom Hearts
Please Answer the following questions using the answer provided; apply the answer to the character you are creating.
1. Which form will you choose?
The power of the warrior*
The power of the defender
The power of the mystic
2. What is most important to you?
Being number one*
Friendship
My prized possessions
3. What do you want out of life?
To see rare sights*
To broaden my horizons
To be strong
4. What are you afraid of?
Getting old
Being different
Being indecisive*