Post by Archer Zero on Jul 15, 2013 21:32:46 GMT -5
Member Information Player Username:
kenji
Current Character List:
Flargle flargle narf.
Random Character Notes (Add anything extra here):Character BasicsCharacter Name:
Matthias Teren
Character Age:
This one is up for interpretation...
Looks: 16 years old
Age since activation: About 53 years old
Since 'his' creation: About 2000 years old
Character Race:
Cyborg... dragon... it's complicated. Read the history for more details.
Character Gender:
Male
About the CharacterCharacter Personality:
Despite his past, Matthis retains none of the personality of his former self. And despite being a cyborg, he does have emotions. He is cool-minded in every situation, as well as formal. He doesn't smile often, and in fact it's questionable if anyone has seen him smile. He only says what is necessary, partially because of the code that he follows as one of the Harbinger division, and also from his own personal preference. However, if he has a duty or a mission, no matter what it is, he will carry it out with swift and decisive efficiency.
In combat, his face rarely if ever betrays his emotions, although underneath, he is planning a large number of strategies to take his opponent down or complete the mission. Out of combat, he often spends time reading. In fact, he realizes he's much like his former nemesis and rival... someone he now admires and truly respects, and if he had a chance, would apologize to for everything.
These days, Matthis also spends his time doing kind acts and keeping the peace, partially because he wants to, partially because it's his mission duties int he Harbinger Division... and partially because he wants to atone for he has done in his past.
Character Appearance:
Matthias stands at about 5' 10". He has blood-red eyes with jet-black hair, speckled with blood-red. He has a face that although youthful, already bespeaks a hidden grief within. In fact, he looks as though he is someone who, at a young age, already saw too many tragedies unfold in the battlefield. And it's made all the worse by the knowledge that he had once committed those atrocities... His face and eyes do not betray any expression at all, and always gives a look of cool aloofness or observation.
As for clothes, for casual wear, he wears what he used to - a black t-shirt with a dark green unzipped combat vest, fingerless black gloves and jeans with black sneakers. They're clothes made for casual situations, but great for combat if it came down to it. For combat, he wears a black power suit that has red trim with a helmet and a visor. The trim signifies his rank within the Harbinger division.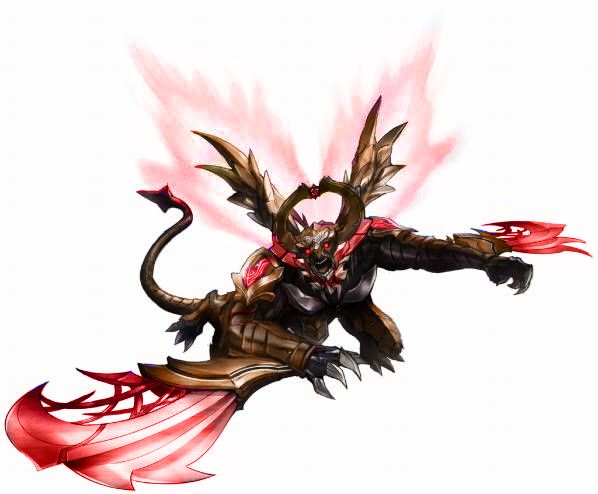 Matthias has regained his dragon form, and it's a formidable sight, to say the least. It was designed by Matthias's father to combine both his son's organic dragon body and his new cybernetic abilities, allowing the best of both worlds once he was able to unlock it. It is about thirty feet long, and covered on top with broze-color armor, with a black armor underside. Matthias also has blood-red 'forearm' blades and booster rockets (those are booster rockets, by the way, not ears) on his back to help with flight. The limbs are rather long for a dragon, allowing for surprising mobility for something so large. The glowing, blood-red eyes make him look evil, but only apperance-wise. All in all, Matthias as a dragon can intimidate any opponent.
Battle StatisticsCharacter Position (Hero/Neutral/Villain):
Heroic Neutral
Character Abilities (Maximum of 15 abilities allowed - please write your abilities in list form, starting with name & then description):
Immense Strength: Being a cyborg has its advantages. While the extent of his strength hasn't been fully measured, he can easily lift about three tons of weight and toss it quite far. His dragon form can take this even further to about six tones or so. Passive.
Extreme Agility: Even before in his mortal body, he was able to move extremely quickly. He still retains this speed, though he does have rocket boots (feet?) that he uses for short bursts of speed either to charge or to dodge. Passive.
AI Analyzing: Matthias has been programmed with some of the most complex AI imaginable, which allows him to find things many people would miss. This would include footprints in rock, structural weaknesses in buildings and people, magical energy and flows, and the like. Passive.
Dark Dragon Flame (Not an ability): A signature Matthias Teren. When he was built, he was also given a magitek core that allows him to use his magic as he did in the past. Matthias can summon flames hot enough to melt boulders, and have a new color scheme. They are black flames, tinged with blood-red.


Dark Dragon Pyro: Matthais shoots a flamethrower either from his mouth, saber, or arm cannon. It shoots straight so it can be easily dodged. One post cooldown.


Phoenix Flame: Matthias shoots out a barrage of fireballs. The good side of this attack is that it covers a large area. The weakness is that the fireballs follow predictable paths and can easily be dodged, leaving Matthias open to a counter. Two post cooldown.


Meteor Blast: Matthias charges up and fires a large fireball that explodes in a 30 foot radius. He often fires from the air to the ground to minimalize collateral damage. Two post cooldown.


Immolation: Matthias pounds the ground, causing the area around him to erupt into a pillar of flame. The pillar of flame has a radius of about 5 meters, and for another five meters, fireballs come out of the ground randomly. Three post cooldown.


Nova Blaze: Matthias dashes forward at high speeds, covering himself in dark dragon flame. The flames extend his range a good deal. Because of Matthias's mass and the speed at which he's going, coupled wih his magic, blocking is idiotic to say the best. Dodging is the most feasible option. Three post cooldown.


Burning Prison: With a swing of the blade, Matthias can create a ring of flames that prevent any escape (be it by flight or teleportion or whatnot). The ring has a maximum radius of 50 feet. Within the flames, the captive targets are subjected to the flames' extreme heat as well as a feeling of suppression, as these flames are magical in nature. Matthias must be within this ring, but his laser blade is on fire during the duration of the magic. 8 post duration, 5 post cooldown.
Dragon's Flight - Matthias has recently modified his rockets so that he can fly with them. Passive.
Mode Shift - Matthias can switch between his human and dragon form as he wishes with no cooldown. He can't use this as a quick dodge/block since it takes some time to change. IT only takes one post to shift forms, and he is immolated in his fire so it blocks most attacks, but if he's managed to be attacked, his transformation is interrupted. Passive.
Overdrive: Draconic Will - Matthias boosts his system's specs to the max by tapping into the full power of his soul and removing all system limiters. This doubles his physical and magical power, and causes his eyes to to start burning with bright blue flames that smoothly leak out from the corners (Matthias's eyes are not harmed and he can still see), as well as coming from his hands. However, this mode has the drawback of overloading his body, causing a massive breakdown. The body then shuts itself completely down to prevent further damage after six posts and teleports back to his incubation pod to repair.
Overdrive: Mega Flare - Matthias has been tinkering with his cannon and can now infuse charge shots with his fire magics. He needs to charge for one post. He then shoots a ball of energy that upon contact, causes an explosion of cataclymistic proportions. Blast radius is approximately 75 feet. Extremely powerful. However, it overheats his cannon and as such, he uses it more as a finisher or desperation move. This attack is even more powerful during Overcharge: Draconic Will. Six post cooldown.
Self-repair: Matthias can repair himself with nanomachines, but only out of combat. And the reparations take time too, so he can't regenerate, say, a sliced-off limb in the middle of combat. Most of the time, he has to be out of combat and hide out of sight for a while in order to restore his body. Needless to say, if one destroys his central CPU, he's permanently dead.
Character Weapons (Maximum of 5 weapons allowed – members must have 100 posts before their characters may wield a keyblade):
Laser Blade - Matthias has a standard laser sword. Nothing special about it, except it has been modified to suit Matthias more. It has a curved blade reminiscent of a katana. Usable only in his human form.
Arm Cannon: Matthias's left arm and hand can be transformed into an arm cannon at his will. It normally fires energy blasts that move fast, though only straight ahead, and cause severe burns to whatever or whomever it touches. HE can also use this in his dragon form, and of course, the cannon and shots are porportionally made bigger. However, the cannon has a secondary attack.


Charge Blast: Matthias can charge his arm cannon up for a large, powerful blast of energy. The cannon can be charged whether it is in usage or not, but Matthias has to consciously charge it. The blast fires only straight ahead, but it is relatively large, and upon impact it causes a large explosion, severly injuring a target if they did not have any defenses. One post cooldown.
Arm Blades: Matthias can use his attached arm blades to fight. They are extremely strong, have good range, and good for defense too. Only used in dragon form.
Character Summons (Optional field – no canon summons allowed – maximum of 2 allowed and maximum of 2 abilities each allowed):
X0-967: Matthias' personal spacecraft. It's modeled like a jet, but it has much better capabilities. It has a hyperspace missile system, meaning it has unlimited missile ammo, and a built-in laser battery for rapid-fire laser blasts. It also comes equipped with a shield generator to deflect energy and magic attacks and other harmful matters such as missiles and the like. It also has a teleporter to travel to different parts of the universe. Built in is an Infinity Ion Generator that allows it to reach speeds that are past lightspeed just in case, and a top-notch steering so it can handle easily. It also has a built in AI that supplements Matthias' AI to allow him to easily handle foes. Also has a propulsion system which allows it to hover and strafe. Extremely powerful, and it can be summoned at any time. Also, a recent addition, Matthias mounted an energy cannon that works on the same principle as his arm cannon - it can fire charged blasts that cause a large a explosion, though it takes a one post cooldown. It can also transform itself into a hovertank form. Although greatly slowed, it can still move fast, it retains its armaments and specs, and the energy cannon mentioned above becomes its main weapon.
Raziel - 'The Dragon King'. A creature that Matthias met during his travels and sympathized with Matthias, now lending him its support. The creature is simply massive - large enough to devour a Bahamut whole and dwarf normal people. It takes the form of a huge serpentine dragon (which can, of course, fly), with orange scales and huge tusks. Exceptionally tough and powerful, it can last for five posts before deciding to leave.


Wrath of the Dragon King - Raziel fires a huge burst of lightning from its mouth. Extremely fast and extremely powerful, blocking it is pretty much out of the option. The only way to get out of the way is to dodge, which one can do if one notices that it rears up and fires. Three post cooldown.


Power of the Dragon King - Roaring to the skies, it summons a thunderstorm. During this storm, it can call down normal lightning on whatever it likes, though the accuracy isn't that great, and a person cannot be struck several times in a row. The storm lasts until Raziel leaves.
Character Racial Ability (Optional - Your character may have ONE passive ability that seems to have an abnormal affect due to being a particular race. Merfolk can breathe underwater, Lava creatures are immune to fire, that sort of thing):
Extreme Durability: One of the most prominent things about Matthias. He has an exoskeleton of lightweight durasteel alloys, with a shock-absorption impact material and design underneath to allow him to endure extreme injuries that would kill any regular person. He's not invincible, however - strong impacts can damage his armor and inner systems, and he's particularly vulnerable in the head, where his main CPU is stored. A good headshot and it's over. Passive.
Character Strengths (1 required):
Matthias is extremely wise beyond his years, and can think of strategies that are beyond what most people think he is capable of.
Character Weaknesses (1 required):
When he's up against someone that has knowingly hurt in the past, he really cannot bring himself to harm them, and will instead take any punishment in turn.
Character History (Minimum of 10 sentences required.):
In the distant past, he was Atarath Teren. He was the son of the two dragons, Amrath and Cho Teren. He was a child prodigy, easily excelling his parents, then matching some of the most powerful beings in the universe. And he was perhaps one of the most widely-known villains in the universe - mainly from his absolute lack of morals. Any crime in the universe, Atarath has done tenfold. He was ruthless and cunning as well, gaining control of a demonic army and conquering the universe. He had been part of the Chan family, but was disowned for his corruption, the first example within the family. However, he still committed heinous crimes against the said family, until Kenji Chan brutally killed him in vengeance.
However, his father, Amrath Teren, had never given up hope for his son. His comrade, one who was like a brother to him and Kenji's father, the Lightbringer, had discovered that even before birth, his soul had been steeped in darkness. This was what caused Atarath Teren to go bad despite having a loving family who believed in honor and justice. After all the crimes Atarath had committed, there were very, very few in the family who would be willing to accept Atarath back into the fold, Kenji, the most powerful at the time, least of all.
And so, in a collaboration between Amrath, a technological genius, the Lightbringer, and Justin Eiren, one of the finest doctors who ever lived, they created a new body for Atarath. A cybernetic body, built to withstand the stresses of time. The Lightbringer recovered his soul from the depths of Tartarus and cleansed the darkness from it, then inserted it into the body. Amrath converted his son's memory into data so he would never forget what he had done, and hopefully learned from it. Justin fabricated synthetic flesh for the new body. Then the body was rechristened Matthias Teren and sealed away in a capsule for diagnostic tests to see that he would not return to evil.
The tests were originally supposed to be for a hundred years. Of course, Amrath died before he could see the project come into fruition. The capsule then was lost, and was lost for more than 1900 years. Then scientists of the Void faction recovered the capsule, and discovered the data files on Matthias Teren. Most of them were in favor of immediately obliterating the capsule. Matthias Teren was aware at the time of their decision, and he welcomed it, for he knew he had to pay for all the crimes he had done. Yet one, a man named Dr. Kain, decided to give him a chance... and released him from the capsule.
Out of loyalty to the doctor, though not for the faction itself, he joined the Void faction, and enrolled into the Harbinger division, an elite division within the Void army. He clearly surpassed all standards, despite constant harrying from his comrades and superiors for who he was in the past. Within a few years, he jumped from an E-Rank Recruit to an A-Rank Elite within the division. He still faces discrimination, but during that time, he had proved himself that he had reformed, and now only seeks ways to atone for all of his crimes. And he has been within the Harbinger division for more than fifty years. Time will tell whether he will choose his own path or not.
Recently, his increase in power and skills have caused him to be promoted to Rank SA, Captain - essentially making him the supreme commander of the Void Army. He still wears his Rank A, Elite armor, though, as he has become too familiar to part with it easily.
Writing PortionSample Post (For first time character creators only. 10 sentences are required.):
NYOHOHOHOHOHOHOHO!!!
Kingdom Hearts
Please Answer the following questions using the answer provided; apply the answer to the character you are creating.
1. Which form will you choose?
The power of the defender
2. What is most important to you?
Friendship
3. What do you want out of life?
To be strong
4. What are you afraid of?
Being indecisive