Post by Archer Zero on Nov 11, 2014 15:20:57 GMT -5
Member Information Player Username:Current Character List:
(Members are free to tell staff if they've their characters linked in their signatures. You may also write down only one name of a character instead. This is just a means for staff to know if there are those that haven't made characters and would need to also write a roleplay sample.)
Random Character Notes (Add anything extra here):Character BasicsCharacter Name:
Claire. Title: The Grandmaster
Character Age:
Eons
Character Race:
Seraphim/Angel
Character Gender:
Female
About the CharacterCharacter Personality (Please give an in depth description of your character's personality, must be at least 5 sentences):
Claire is a very straight-minded, noble individual. From the very beginning, she concerns herself with her mastery of arms most of all and everything else second. Her countless years of training and refining have given her a surprising amount of honor and dignity - she respects those who work hard to gain the skills and strength they have, while she deeply despises anyone who takes shortcuts in life to get ahead. When met with opponents who wish to face her head on in full strength, Claire feels honor bound to do the same, as anything less would be insulting. That being said, against much weaker opponents, she gives advice and criticisms as she fights to teach them. This is a result of both confidence in her own skills and a desire to help those who strive to improve themselves to perfection and beyond.
However, the above only applies in duels or small skirmishes. In larger battles, Claire dedicates herself to eradicating her foe, whether it be commanding her troops or marching out in battle herself. She does not dispense advice nor does she hold back - any who stand in her way shall be swiftly and decisively dealt with. In war, she is swift, cold, and merciless - like an unsheathed sword who wounds and slays at behest of her wielder.
When she's not fighting or training, she's very formal in how she acts, like a knight, but she's very kind and giving to those who give her the time of day. She has a habit of drinking tea (raspberry tea being a particular favorite), and she can be often found reading - most likely a historical account of warriors or even myths and legends. This is because they often held some sort of technique she can learn from them and there was no reason why she couldn't learn them as well. And she also enjoys their stories too.
Character Appearance: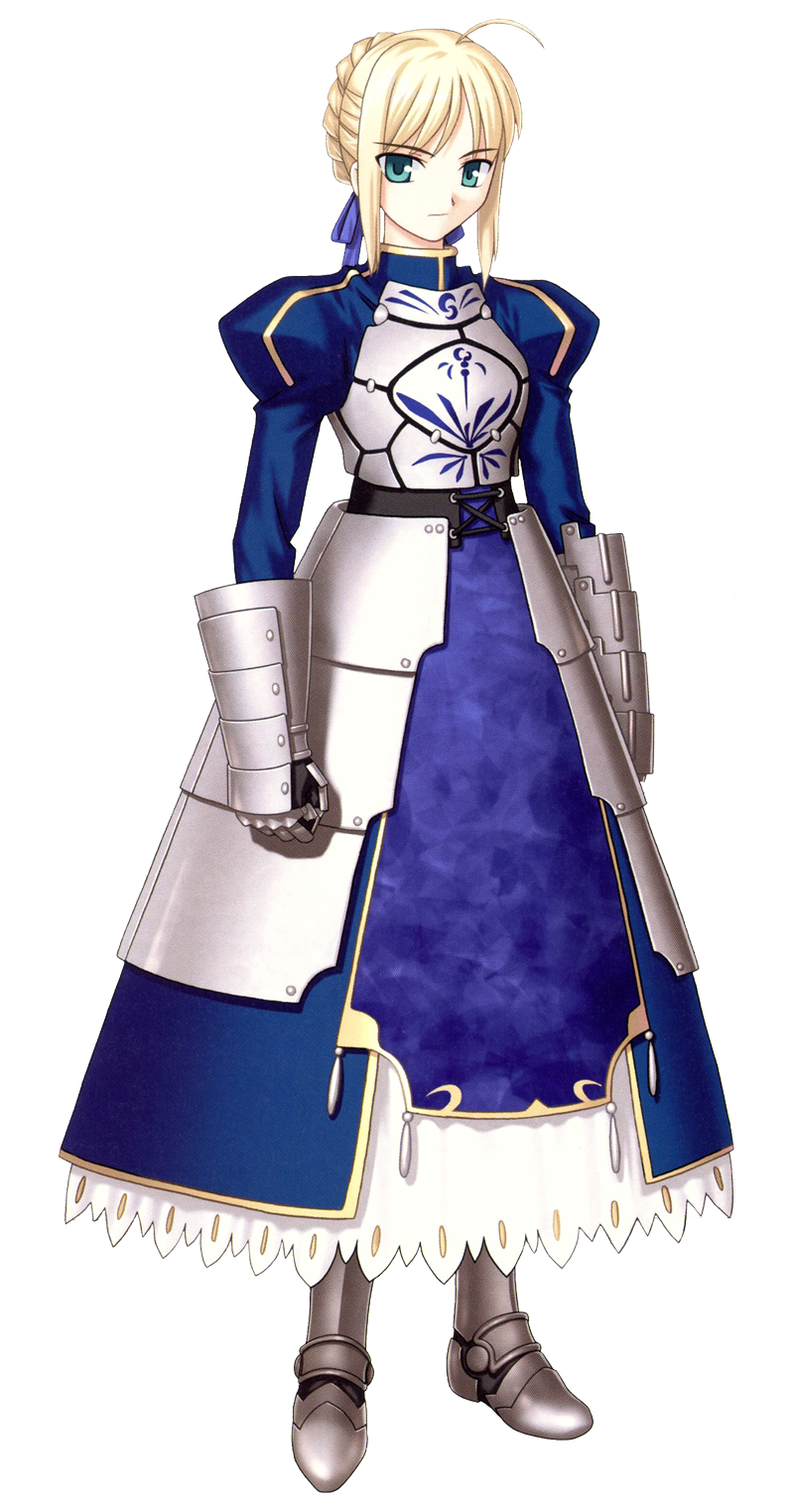 Claire stands at about 5' 6" tall, not that tall of a height but not very short either. Her body figure is very slim and lithe, which may fool people into believing she is weak at first glance. She doesn't have many curves to her, as she has trained and fought so long and hard that any excess fat is burnt off her, but she still very attractive to look at. She had platinum blonde hair and stern green eyes. Although her eyes often seem like they're reading an opponent, they'll express emotions from time to time - although it has to be pretty extreme for them to show.
As for clothing, in battle, she wears lumium armor as shown in the image. Although it would seem her skirt would get in the way of fighting, it's actually very light and wide, allowing for a surprisingly large range of movement. The cloth on her shoulders and arms are actually the battle dress she wears underneath, and even that is surprisingly durable, as it's woven with a special fiber found only in Heaven that allows it to repel slashes and magic. However, it's still vulnerable to blunt trauma and stabs. Out of combat, she wears the dress that is normally under her armor - a blue and white dress that seems a bit more like a ballgown than anything actually combat ready, but is still very efficient for fighting and training in. And in case you're wondering, she wears shorts underneath her dress.
Battle StatisticsCharacter Position (Hero/Neutral/Villain):
Heroic Neutral. She's more concerned with honing her skills and will fight anyone she deems as strong, but with her sense of honor, she will step in to stop evil if she sees it.
Character Abilities (Maximum of 15 abilities allowed - please write your abilities in list form, starting with name & then description):
Inhuman Strength - Being an angel/Seraphim and her countless years of combat have strengthened her to degrees far above humans. She can easily lift boulders that weigh several tons if she so wished. Passive.
Inhuman Speed - Again, because of her race and experience, she is much faster than a human - as fast as a cheetah if she so wished. Passive.


Shukuchi - Although she doesn't have the proficiency of her lord, Kenji, she has trained in her footwork that she can use sheer speed to instantly appear in another location within a short distance. One post cooldown.


Combat Perception - Claire's eons of fighting have allowed her to observe things that normally wouldn't be visible to the human eye - currents of wind or magic, structural weaknesses, breathing rates, and the like. Nothing inhuman about it - only came after centuries of experience. Passive.
Blades of Wind - Claire can strike with her weapons so hard, her strikes reach beyond even the range of her weapons. Claire creates powerful gusts that swiftly fly in the direction she strikes. Any opponent hit by them is damaged as though they were struck at normal range. The shape of the Blade depends on how she fires them - a slashing motion creates a crescent wave whereas a stabbing motion creates a cone. The reach a distance of about 30 meters before dissipating. One post cooldown.
Final Strike - Claire dashes forward with shukuchi and strikes, using both the momentum of her speed and her strength to land the hit. She can only hit straight ahead, but taking such an attack head-on is extremely ill-advised. Two post cooldown, cannot be used if shukuchi has already been used.
Infinity - Using all the strength in her arms, Claire roots herself to the ground and and strikes far more many times than visible. To her opponents, it seems as though she is doing only one strike when in reality, she is doing six at once, all at different locations. Extremely hard to block, but one can dodge simply by moving out of range of her weapons. Two post cooldown.
Dispel - Combined with her perception and her skill at martial arts, Claire has trained herself to the point where a single strike of hers could sever the magic she strikes and dispel it. Of course, she has to physically hit the magic itself or it won't work. Three post cooldown.
Character Weapons (Maximum of 5 weapons allowed – members must have 100 posts before their characters may wield a keyblade):
Alaunus - A legendary weapon used kept in the treasuries of Heaven yet given to Claire for use, Alaunus is a greatsword that glows of holy power. It is approximately 3.5 feet long with the blade about 0.8 feet long at its widest. The blade is also quite heavy, lending a lot of power to Claire's strikes with it.
Erebus - Another legendary weapon that Claire was allowed to use. A crimson spear that used to be wielded by a legendary hero, it fell into Claire's hands after the end of one siege in Hell and looting the treasuries. Although it's a cursed weapon that brings its owner ill fortune, Claire's willpower simply overridden the curse, allowing her to use it.
Brahmastra - This one had belonged to a legendary angel eons ago, but when he fell in battle, it was sealed in the treasuries as it was too powerful for any to use - except Claire, and even she has yet to wield the full strength of it. As it is now, she can fire arrows of flame that can pierce through almost all physical and magical protection. As it uses magic, its ammo is essentially infinite, though it can work as a standard bow in a pinch.
Character Summons (Optional field – no canon summons allowed – maximum of 2 allowed and maximum of 2 abilities each allowed):
Orpheus - One of the steeds of the Heavens, Claire can summon Orpheus, her Pegasus, to her side. It is pure silver, clad in armor, as befitting a warhorse. It can easily reach speeds of 200 km/h and fly very long distances before ever getting winded. Orpheus has been Claire's companion for an extremely long time and as such, nothing can dissuade its loyalty to her. Five post duration, two post cooldown.
Character Racial Ability:
Flight - Claire isn't a Seraphim for nothing. Should she so wish, white feathered wings will phase out of her back and allow her to take flight. Toggleable/Passive.
Character Strengths (1 required):
Claire is not titled the Grandmaster for nothing. She is a master of almost all forms of combat and martial arts styles, and as such can easily adapt herself to whatever is needed. She's also very intelligent, knowing readily of many myths, legends, and history.
Character Weaknesses (1 required):
If it has nothing to do with combat, Claire likely has extremely little knowledge of. Since she cares about strength of arms more than anything else, if doesn't have to do with it, she likely hasn't learned of it nor really cared.
Character History (Minimum of 10 sentences required.):
The very early years of Claire's life is a mystery, as she herself as forgotten it. She only knew that she was created, for during that time very little existed in the universe and thus she couldn't have actual parents. Her first memories were of war - War against Hell, against the demons who sought to control the universe. She was a soldier, and she fought. However, whereas the other angels fought for peace, or fought for power or dominion, Claire found herself different in that regard: She found herself fighting because she delighted in it. She wanted to make herself more skilled, stronger, so that she could face even more battles and fight even stronger opponents.
And so, for eons, she sought battles and continued to fight. However, when a very tenuous cold war between heaven and hell began when neither side would show their cards, Claire began getting bored. She began vising the mortal realms, sometimes in disguise, other times in her full glory, to further her strength. She began gaining a new respect for the hardworking mortal races, and began getting increasingly distant from her own race, where riches and peace fell on their laps without them having to do anything. More often than not she became a champion for them, in various forms and in different ways, sometimes venerated as a hero, other times worshipped as a goddess. But she kept moving on, always seeking to improve herself.
When the war between Heaven and Hell boiled over again, she was at first delighted, but soon noticed through the fog of war that someone else had been manipulating things. She discovered and fought with the one who had orchestrated everything so that he could gain his own empire - Kenji Chan. Kenji had won against her, but only just, and instead of slaying her in the end, he offered the chance to join her. His goal of justice and peace for all seemed genuine - if a bit naive - but in order to do so, there were a lot of powerful enemies to destroy; Something Claire was more than willing to do. As such, she joined as Kenji's first Paladin, and eventually became the Commander of the Paladins. Now she serves him loyally, seeking to always improve her strength and to bring justice to all.
Writing PortionSample Post:
Trolololololol
Kingdom Hearts
Please Answer the following questions using the answer provided; apply the answer to the character you are creating.
1. Which form will you choose?
The power of the warrior
2. What is most important to you?
Being number one
3. What do you want out of life?
To be strong
4. What are you afraid of?
Being indecisive