Post by shrike on Jan 26, 2015 12:13:47 GMT -5
Member Information
Player Username: Shrike
Current Character List: N/A Yet
Random Character Notes (Add anything extra here): N/A
Character Basics
Character Name
: Shrike
Character Age
: Unknown, appears 17.
Character Race
: Program
Character Gender
: Male
About the Character
Character Personality
:
Originally a program made to delete viruses, Shrike was infected with a virus. This has changed his personality and given him a sort of multiple personality disorder. His normal personality is the corrupted one. "Dark Shrike" is a malicious individual who loves to see people suffer. The malicious side of him enjoys the misery of other individuals, including programs, and users or other people. Dark Shrike is not above getting his hands dirty in a fight. Another aspect of Dark Shrike is the temper he possesses. It is the equivalent of a nuclear bomb.
Yet on the other hand, there is Neutral Shrike. Neutral Shrike is a kinder individual who doesn't like to fight if he can avoid it. But if he absolutely must fight, he prefers ambush tactics and explosives as opposed to being up close and personal with an opponent in battle. While he may have somewhat of a temper, it's not as bad as Dark Shrike's. Neutral Shrike also prefers conflict resolution to battling it out, but will do so if the need arises.
Character Appearance
:
There are two distinctive appearances possessed by Shrike. The first one is that of Dark Shrike. When he is Dark Shrike darker colors are normally worn by him including blacks and reds. His hair is gray and styled in a flat top. His eyes appear crimson, and glow red. When outside of his armor he wears a track suit that is black and red. But when in his armor he is completely covered from head to toe in a very futuristic looking black and red and white body armor.
The other side of him namely "Neutral Shrike" is a different story. Casual clothes are worn by him most of the time> They consist of blue jeans, a gray tank top, and a gray hoodie. When he absolutely must engage in battle however his clothes are instantly transformed into a body suit that is covered with armor. The armor that is worn by Neutral Shrike is more styled after stealth fighters such as Shinobi and similar entities.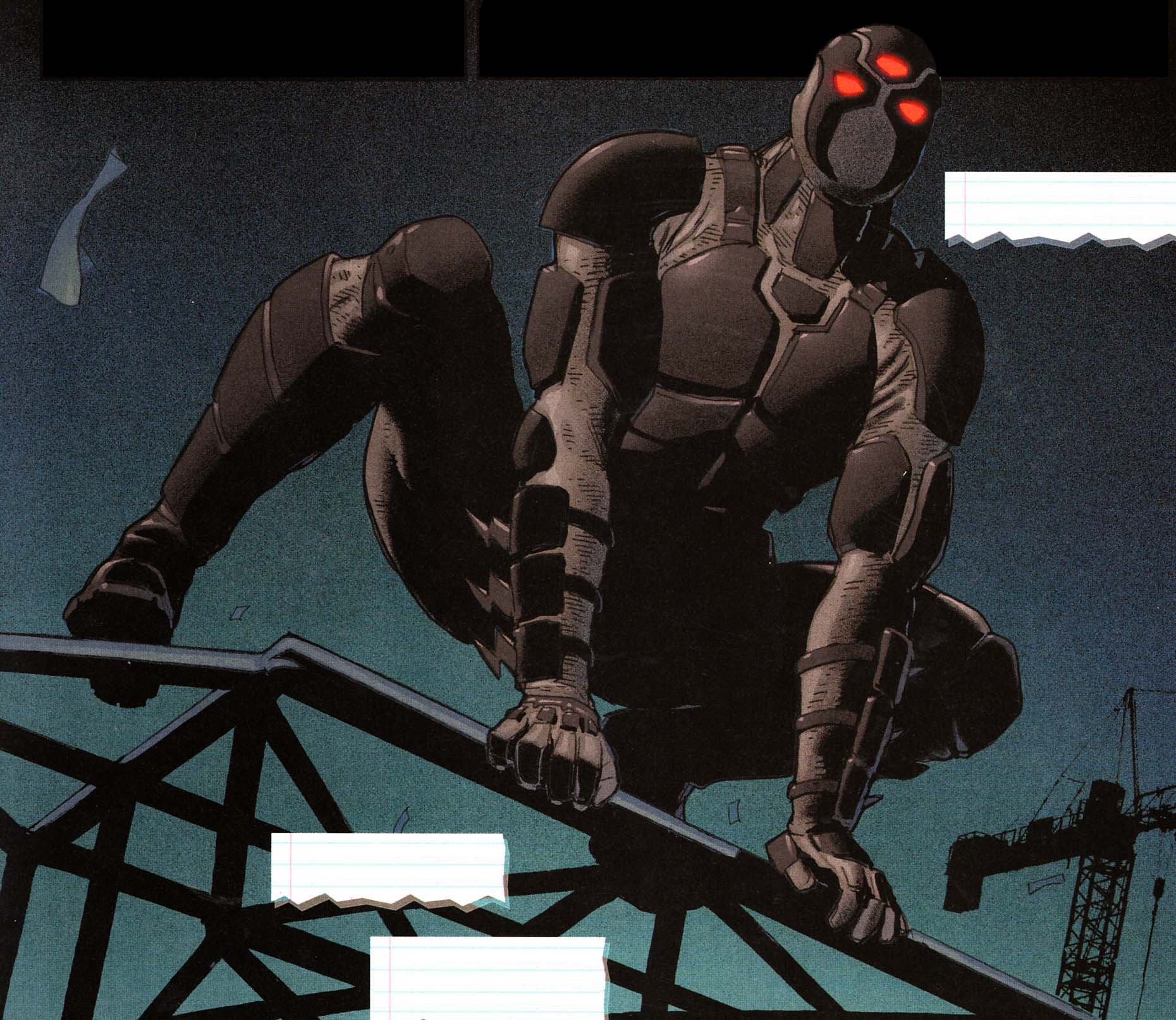 Battle Statistics
Character Position (Hero/Neutral/Villain): Villain/Neutral(Depends on Personality)
Character Weapons (Maximum of 5 weapons allowed – members must have 100 posts before their characters may wield a keyblade):
None yet.
Character Abilities (Maximum of 15 abilities allowed - please write your abilities in list form, starting with name & then description):
Presently: None
Character Summons (Optional field – no canon summons allowed – maximum of 2 allowed and maximum of 2 abilities each allowed): N/A presently
Character Racial Ability (Optional - Your character may have ONE passive ability that seems to have an abnormal affect due to being a particular race. Merfolk can breathe underwater, Lava creatures are immune to fire, that sort of thing): Respawn: N/A
Character Strengths (1 required):
Adaptable: Shrike is very good at adaptation.
Character Weaknesses (1 required):
Kindness: Kindness is not something Shrike understands.
Character History (Minimum of 10 sentences required.):
Viruses sometimes exist, and sometimes they're more powerful than they should be. When a routine maintenance was done by Shrike.EXE in a server, he was infected with a virus. The virus was meant to replicate itself, and spread like wild-fire. This led to him encountering a program known as Sirene, and corrupting her personality. But before he could infect her he was stopped, and now is on the run. While he's been on the run, Shrike's been visiting various videogames. His visits to said video games have been to help him discover the equipment and abilities he wants to permanently use.
Of course he hasn't found any yet, but is constantly looking. For he knows he'll have to fight Sirene in the future, and would rather be prepared than not be prepared. Neither personality often agrees on many things, and so they haven't actually agreed on what weapons/abilities would be the best for them to possess in the future. It is why the two personalities are constantly warring with each other for control of his body.
Writing Portion
Sample Post (For first time character creators only. 10 sentences are required.): Unneeded
Kingdom Hearts
Please Answer the following questions using the answer provided; apply the answer to the character you are creating.
1. Which form will you choose?
The power of the warrior
2. What is most important to you?
Being number one
3. What do you want out of life?
To be strong
4. What are you afraid of?
Getting old