Post by shrike on Jul 5, 2017 17:42:09 GMT -5
Member Information Player Username:
Shrike
Current Character List:
None that are active
Random Character Notes (Add anything extra here):
N/A
Character BasicsCharacter Name:
Tochi
Character Age:
Eighteen
Character Race:
Human
Character Gender:
Male
About the CharacterCharacter Personality (Please give an in depth description of your character's personality, must be at least 5 sentences):
(Your text here)
Character Appearance (Please include such things as height, hair color, eye color, body type, clothing, weight, etc. You need to actually write a description. You may include a picture for reference. Must be at least 5 sentences):
Tochi dresses himself in a white and gold hoodie, a white and gold vest. In addition, he wears black jeans, and armored boots by him most of the time. Armored gloves are also worn by him, that are colored white and gold. His hair is styled into a flat top. His eyes are colored purple. His height is about 5"4, and his weight is about 185 lbs. He's also got another outfit, that consists of a white and gold body suit, and a white and gold leather jacket, that has three purple stars on it.
Battle StatisticsCharacter Position (Hero/Neutral/Villain):Character Spells (Max 5 spells, 10 spells for members with 50+ RP posts), please post spells in detailed list format:
Curaga
Once More
Light
Lightra
Lightga
Character Abilities (Max of 10 abilities allowed, 20 for members over 50 RP posts - please write your abilities in list form, starting with name & then description):
Rays of Light:
Rays of Light is a spell that Tochi can cast out of the palms of his hands. These are two beams of light that have the properties of concussive energy beams. The Light is more effective against Heartless, and other creatures of Darkness. The Rays of Light do medium damage, and also have a chance to blind an opponent. 3 post cool down. Light is the element that Tochi has the deepest connection to, and the strongest level of control over.
Spell Channel - Light:
Spell Channel - Light is an ability that he can use to channel a Light Element Spell into his blade, up to a Ga level spell. This allows him to do the attack by slashing an opponent, doing the same amount of damage and having the same properties as the spell that he would use. This has a 3 post cool down, and does variable damage.
Corridors of Light:
Corridors of Light are pathways of Light that can be used to travel between worlds. The Corridors of Light are also able to be used by Tochi in combat, by sinking into them to avoid attacks, and also by using them to catch opponent's attacks that are of the ranged variety, and release them at an opponent, doing an extra damage level, and being changed to the Light Element. In combat, this has 3 posts cool down but can be used to run away without any cool down.
Shining Fist:

Channeling the power of the Element of Light into his fist for a few moments, Tochi can deliver a three punch combination that does medium damage, and double damage against Heartless, or those who use Darkness. This has a 2 post cool down when properly executed, and cannot be used with his swords in hand. This cannot be used when using the Spell Channel ability. \
Character Forms/Command Styles (Optional - Limit 3 - Please write in list format):
(Your text here)
Character Weapons (Maximum of 5 weapons allowed – members must have 50 posts before their characters may wield a keyblade):



Dual Scimitars: A set of plain dual scimitars that are wielded by Tochi.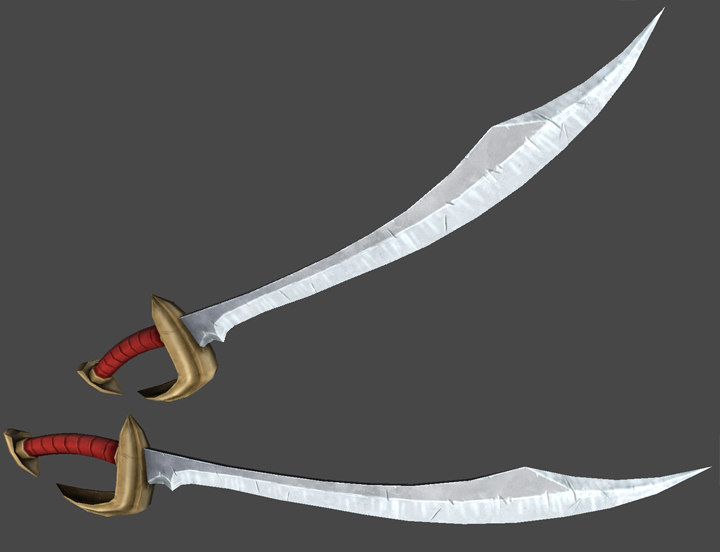 Character Summons (Optional field – no canon summons allowed – maximum of 2 allowed and maximum of 2 abilities each allowed):
(Your text here)
Character Racial Ability (Optional - Your character may have ONE passive ability that seems to have an abnormal affect due to being a particular race. Merfolk can breathe underwater, Lava creatures are immune to fire, that sort of thing):
(Your text here)
Character Strengths (1 required):
(Your text here)
Character Weaknesses (1 required):
(Your text here)
Character History (Minimum of 10 sentences required and requires something included from the KH universe.):
Tochi was born on a world where the Light and Darkness of the world were prohibited from being used, except by the strongest of warriors. Chosen by Dawn, and Dusk, two of the most powerful masters of the element, to be their student he was snatched from his parents by both of them, and taken away.
Writing PortionSample Post (For first time character creators only. 10 sentences are required.):
(Your text here)
Kingdom Hearts
Please Answer the following questions using the answer provided; apply the answer to the character you are creating. Custom options are allowed, but please try and stick with the defaults if possible.
1. Which form will you choose?The power of the warrior
The power of the defender
The power of the mystic
2. What is most important to you?Being number one
Friendship
My prized possessions
3. What do you want out of life?
To see rare sights
To broaden my horizons
To be strong
4. What are you afraid of?
Getting old
Being different
Being indecisive