Tochi
Jul 5, 2017 18:59:15 GMT -5
Post by shrike on Jul 5, 2017 18:59:15 GMT -5
Member Information Player Username:
Shrike
Current Character List:
None that are active
Random Character Notes (Add anything extra here):
N/A
Character BasicsCharacter Name:
Tochi
Character Age:
Eighteen
Character Race:
Human
Character Gender:
Male
About the CharacterCharacter Personality (Please give an in depth description of your character's personality, must be at least 5 sentences):
As he was kidnapped from his parents when he was young, Tochi has never known kindness. Unable to understand the value of friendship and bonds, Tochi is one who believes that his own power is what one should use. As a result of this, he doesn't care about friendship or connections with others, and believes those who rely on them to be pathetic, and weak. Such a weakness being the source of strength for individuals doesn't make sense to Tochi at all. Tochi also hates Darkness, and those who use it with an intense burning passion. This makes him want to savagely rip apart the Heartless, and several other creatures. Any users of Darkness will find themselves as his mortal enemies. While he may use the Light Element, Tochi also has anger issues and as such would also be a good fit for Darkness, even if he doesn't realize it presently.
Character Appearance (Please include such things as height, hair color, eye color, body type, clothing, weight, etc. You need to actually write a description. You may include a picture for reference. Must be at least 5 sentences):
Tochi dresses himself in a black and gold suit, that covers him from the neck down as shown in the picture. The outfit consists of a mostly synthetic leather and Nomex like material, providing added durability. His height is about 5"4-5"5 and his weight is about 179 lbs. His hair is colored gray,
Battle StatisticsCharacter Position (Hero/Neutral/Villain):Character Spells (Max 5 spells, 10 spells for members with 50+ RP posts), please post spells in detailed list format:
Curaga
Holy
Esuna
Character Abilities (Max of 10 abilities allowed, 20 for members over 50 RP posts - please write your abilities in list form, starting with name & then description):
Rays of Light:
Rays of Light is a spell that Tochi can cast out of the palms of his hands. These are two beams of light that have the properties of concussive energy beams. The Light is more effective against Heartless, and other creatures of Darkness. The Rays of Light do medium damage, and also have a chance to blind an opponent. 3 post cool down. Light is the element that Tochi has the deepest connection to, and the strongest level of control over.
Shining Weapons:

Shining Weapons an ability that he can use to channel a Light Element Spell into his blade, up to a Ga level spell. This allows him to do the attack by slashing an opponent, doing the same amount of damage and having the same properties as the spell that he would use. This has a 3 post cool down, and does variable damage. However, this doesn't just apply to his swords, but to any weapons that Tochi might get in the future, they could be used in a similar fashion by him.
Shining Fist:

Channeling the power of the Element of Light into his fist for a few moments, Tochi can deliver a three punch combination that does medium damage, and double damage against Heartless, or those who use Darkness. This has a 2 post cool down when properly executed, and cannot be used with his swords in hand. This cannot be used when using the Spell Channel ability.
Barrier of Light:
Channeling the power of Light, Tochi will create a barrier of light around his body. This can take up to a Ga level spell or a hit of similar damage. This has a 3 post cool down, once it has taken a single hit, as it will shatter if it takes that level of damage.
Corridors of Light:
Portals of Light that cam be used outside of combat, solely to allow him to travel the worlds.
Character Forms/Command Styles (Optional - Limit 3 - Please write in list format):
N/A
Character Weapons (Maximum of 5 weapons allowed – members must have 50 posts before their characters may wield a keyblade):



Dual Scimitars: A set of plain dual scimitars that are wielded by Tochi.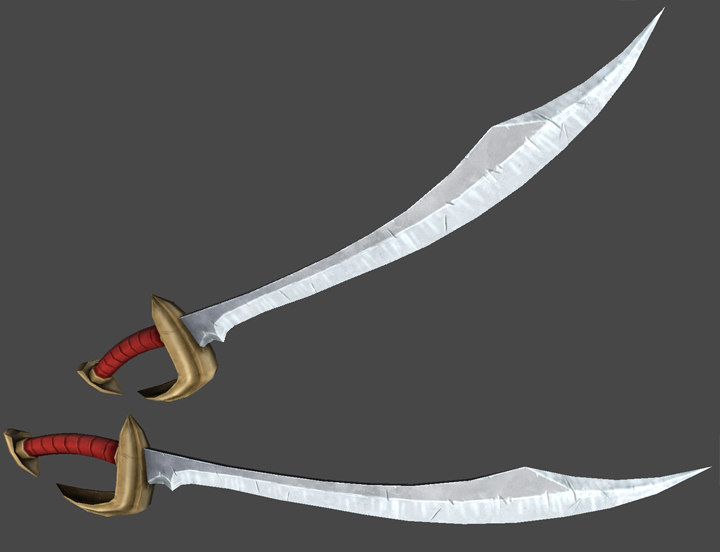 Character Summons (Optional field – no canon summons allowed – maximum of 2 allowed and maximum of 2 abilities each allowed):
N/A
Character Racial Ability (Optional - Your character may have ONE passive ability that seems to have an abnormal affect due to being a particular race. Merfolk can breathe underwater, Lava creatures are immune to fire, that sort of thing):
N/A
Character Strengths (1 required):
The Light Element: Tochi is a master of the Light Element, and can use it stronger than most people could.
Character Weaknesses (1 required):
Darkness: Darkness is the antithesis to the abilities of Tochi, and he is exceptionally vulnerable to it.
Kindness: Due to how he was raised, Tochi doesn't understand the concept of kindness.
Character History (Minimum of 10 sentences required and requires something included from the KH universe.):
Tochi was born on a world where the Light and Darkness of the world were prohibited from being used, except by the strongest of warriors. Chosen by Dawn, and Dusk, two of the most powerful masters of the element, to be their student he was snatched from his parents by both of them, and taken away. Dusk quickly rejected Tochi when he realized that Tochi could never harness the power of darkness in any meaningful way. However, where Dusk was convinced to abandon the young student Dawn saw potential in him, potential that could be nurtured and controlled. As a result of this potential, Tochi was taken in by Dawn and his lessons began at the age of six. Various Martial arts were what the curriculum consisted of, as well as how to handle several different kinds of blades, and how to use the power of Light.
As his skills grew, Dawn deployed him on missions to various worlds to fight the Heartless, to try and get him a key-blade when he became ten. Yet nothing he did could get him the power of one. As a result of this, Dawn dismissed him at the age of seventeen, after beating him within an inch of his life, with Dusk's help. Abandoned in Twilight Town, Tochi now seeks to learn who he is, who he could be without the two of them in his life. Of course, it's not going to be an easy task, but few things in life worth doing are considered "easy" by any means.
Writing PortionSample Post (For first time character creators only. 10 sentences are required.):
"They say that friendship is strength. They say that Darkness can provide power greater than anything the Light could,"
began Tochi as he walked through Twilight Town, his blades flashing, and cutting down a Shadow, as they were infused with Light.
"I say to them, that they are idiots. The only strength that matters is your own personal strength. The only power one should need is what comes from within!"
His swords flashed again, slicing through another of the Heartless. As his swords exploded out of another of the Heartless, once he had finished it, he sighed. Truly his blades could only do so much to stem the tide of pests that bothered the various worlds, and that bothered him on a deep level. For if he couldn't become strong enough to power through even the weakest Heartless, what good were his efforts? Sure he had the power of Light, there was no denying what he was capable of, Light Wise. But he wasn't strong enough on his own.
"Dawn abandoned me!"
His swords were swung, and would slice the wings off of an aerial Heartless.
"Dusk rejected me!"
Rays of Light were fired from the palms of his hands at the unfortunate Heartless, destroying it temporarily.
"And I don't give a crap about friendship or bonds. If people want to play dirty with me, then I'll play dirty. They want me to be a bad guy? Then that is exactly what I'll give them. I'll show them that Light can be just as cruel as Darkness!"
Tochi resolved in his heart at that moment, that if Light could be as cruel as Darkness, perhaps he should show the various worlds how cruel Light could be.
Kingdom Hearts
Please Answer the following questions using the answer provided; apply the answer to the character you are creating. Custom options are allowed, but please try and stick with the defaults if possible.
1. Which form will you choose?The power of the warrior
The power of the defender
The power of the mystic
2. What is most important to you?Being number one
Friendship
My prized possessions
3. What do you want out of life?
To see rare sights
To broaden my horizons
To be strong
4. What are you afraid of?
Getting old
Being different
Being indecisive