Post by Delta on Apr 9, 2013 11:12:21 GMT -5
Member Information Player Username:
Xandiel
Current Character List:
Signature
Random Character Notes:
For a plot with sprow. <3
Character BasicsCharacter Name:
Johnny Dios
Character Age:
Infinity. Looks about 17.
Character Race:
Human incarnation of the light
Character Gender:
Male
About the CharacterCharacter Personality:
Johnny is a very friendly young boy. He has the sort of smile that makes you instantly like him, and the kind of heart that loves everyone. He refuses to fight anyone on the grounds that he is a pacifist. In fact, Johnny takes this so far that he will die before he strikes another human. Darkness, or really evil of any kind, is different. He has a deep-rooted hate for it.
Though he seems weak and innocent, Johnny is, in fact, more powerful inherently than some of the strongest keyblade masters. He tends to speak in a teasing way, and somehow his dialect seems... older. At times one may question his real age because of this. He seems to know everything and everyone, and is as wise as he is intelligent.
It is a true testament to his character that despite this power, he never uses it, even on those that mock and hurt him. And in fact, this happens quite often. Johnny is a magnet for trouble. Darkness and hateful people seem drawn to him. The darkness he shows no mercy toward, but the humans he genuinely seems concerned for. He only wants to help them become better people. He is constantly smiling, with few exceptions when he is crying or angry. When he is, it's not for himself. It's for others around him- the man who is desperate, a friend who is hurting, darkness that is corrupting something otherwise beautiful.
His true goal in life is to destroy all darkness, but he believes that it is easier to do this by showing kindness toward those with dark hearts and convince them to join the light than to destroy them.
Character Appearance:
Johnny is small for his age, with shockingly blonde hair that borders on white. His eyes are a brilliant green, like a forest lake, and his skin is soft to the touch. He looks delicate, to be honest- weak and small, but full of love. He stands at 4'6" and almost a hundred pounds. This isn't to say he looks emaciated or anything- he eats well enough, his build is just slim. The photo is a bit older and larger than he is- but the face is almost spot on.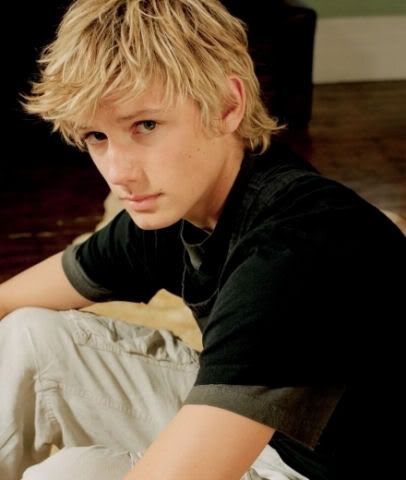 Photo thanks to
rppanem.webs.com/members.htm
Character Hobbies/Activities:Battle StatisticsCharacter Position:
Anti-darkness
Character Abilities:
Love:
A nobody's heart naturally regenerates over time, but emotion speeds this process up. Johnny radiates all sorts of emotion. Love for the world and people around him, sadness and anger at the corruption, joy at the beauty. A nobody who spends even a couple days with them could find that their heart is already budding. After a week or so (a thread or two) their heart will be completely regenerated. Those who already have hearts will feel more emotional after the same periods of time, and even villains will grow more partial to love and joy. This is only effectual over extraordinary periods of time- days, weeks. It can be blocked, or you could stay out of range (about 5 meters) but it's hardly necessary. Passive.
Water:
Johnny can summon brilliant blue water that has multiple purposes. These purposes are listed in other abilities; this ability simply allows summoning of it. Maximum amount is about a large lake's worth per thread; not offensive in these quantities. The water appears from his hands, or, if cut, his bloodstream. In larger, noncombat quantities it just springs out of the earth. From there it can coalesce into a lake, or sprinkle all over the world, restoring life to it like a really big fountain of youth. If used against darkness (as detailed in other abilities), it shoots out rather like a hose from his hands. Passive.
Living water:
Entering a lake of this water is an interesting experience. The water is breathable to humans, and naturally grows their heart as if they were near Johnny. Such lakes feel bottomless, and none of the usual bad things come with depth. Fingers never wrinkle, it never gets dark as you go deeper, and you never need to surface for air. Many emotions are found within the pool, notably feelings of joy and freedom. Anyone who enters leaves the pool with the feeling that their heart is full of life, as if the water is what hearts are made of. Works similarly and to a lesser degree when the water is drunk. Passive.
Pure water:
The water purges darkness of any kind. If anything enters a lake of it, the darkness within is immediately gone. People with dark hearts will undergo rapid transformation and may emerge a different, kinder person. Heartless simply dissolve- it might as well be lava. Of course, player characters survive, but diving in is very, very inadvisable for them. When sprayed from Johnny's hands, this water is simply used as a jet that dissolves darkness on contact like acid- though it can be blocked by magic or dodged. One post cooldown when sprayed in such a manner after three jets. One lake per world.
Light:
A wave of pure, green light energy that eats away at darkness. This wave explodes outward from him and is harmless to humans physically. However, its effects on darkness are devastating. Anything that isn't a boss-level heartless (say, a player character or boss level heartless) is instantly obliterated. Every other dark creature takes incredible damage. Darkness in the human heart is also purged, if left unblocked, to the level that human villains and hateful people can quite suddenly change depending on the strength of their heart (player's choice). This is only usable once per thread, and usually only at the worst possible moment. Blockable, and the maximum range is thirty meters so that it can be dodged by getting out of range. For certain plots, this range may extend to cover an entire world and the strength may increase to an unblockable level with permission from all involved.
Purity:
A form of curing that is incredible in its potency. A ray of brilliant green light falls from the sky, eliminating all darkness, blood, poison, and injury in the immediate area around and including the target. This light creates a circle around them with a radius of about a meter, though it can adjust for larger people. The result is that all status effects are cured, the target's cooldowns are dropped to 0, they regain their full strength, and, obviously, they are healed to full health. Strong darkness (player characters) can withstand the light, but it eats away at their being rapidly. Just stepping back until it's over is more viable. Once per thread.
Esunasa:
This spell creates a green circle of light that hovers in place. Anything that enters this circle is healed of status conditions only. Sickness, poison, paralysis, silencing, and even serious conditions like petrification and unconsciousness, are healed instantly upon entering the circle. This does not restore any health or damage dealt. The circle lasts 4 posts, does not work on creatures of darkness, and has a five post cooldown afterwards.
Sacrifice:
Upon death, Johnny dissolves into light and water. This light and water form a vast lake, perhaps city sized, that has the power to make anyone who enters it completely immune from darkness. Dark beings can still hurt them; dark attacks still do damage. However, so long as they choose to fight for the light, they cannot be corrupted by darkness. Johnny is dead after this, however, his essence is part of the created lake. Therefore, he may appear to any who have entered the lake as a vision or illusion, though he cannot affect the world in this state. This lake cannot be drained or polluted. It also carries all the normal effects of a lake johnny could have generated while alive.
Character Weapons:
None. The water is far more effective than a blade on darkness, and he has no need to fight anything else.
Character Accessories:
Johnny wears a pendant that is black with a green ring around it. This pendant has the strange property of sensing the amount of darkness nearby relative to the light. The more darkness there is, the wider the inner black circle is and the narrower the outer green ring is. If there is less darkness, the opposite happens; the black circle may shrink down to a dot at the center and the green ring may compose most of the pendant.
Mode of Transportation:
Reality bending. Through will alone he travels from place to place.
Character Strengths:
Incorruptible by darkness and very high in strength, Johnny is a formidable foe as old as time itself. There are few alive who could defeat him.
Character Weaknesses:
Johnny refuses to fight anything but darkness. He will allow himself to be killed before he strikes another human.
Character StoryCharacter Home World:
The first world
Character Relationships:
Everyone
Character History:
The realm of light was a beautiful place. Paradise, in fact. It was here that Johnny once lived, as the chosen representative of the light. But as everyone knows, paradise never lasts. People fought over the light. They wanted power, they wanted kingdom hearts, they wanted the x-blade. From this desire for power, they created darkness. Keyblades were made, people killed each other, and the realm of light split into many worlds. Eventually there were none left to fight, and the war dissolved, leaving no winner. Only chaos and ruin.
Johnny was left behind after all this madness. Despising the war that had destroyed everything he knew, Johnny took a strict vow of nonviolence against his fellow men. All he would fight was the darkness that had created the conflict. From this decision, the light chose him to represent it. He would fight the darkness and bring life and light back to the worlds.
For centuries, this was his goal. Being the light gave him immense power, and he learned to use it and wandered the worlds, gaining knowledge and wisdom. Finally, he felt it was time. He would begin his campaign to end darkness once and for all.
Kingdom Hearts1. Which form will you choose?
The power of the defender
2. What is most important to you?
Friendship
3. What do you want out of life?
To see rare sights
4. What are you afraid of?
Being indecisive